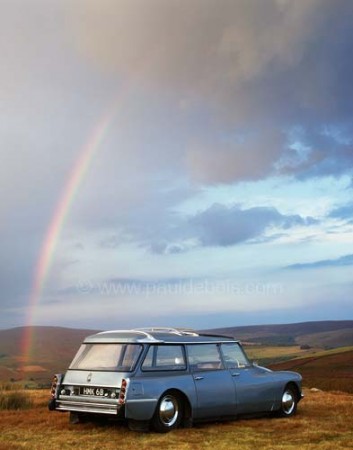 Just before Christmas I started editing the hundreds of car photographs I took between 1989 and 1997 for a series of books. All classic cars, ranging from Austin 7 'Chummys' through to rare Ferraris, it was interesting to see them again after they had been confined to a filing cabinet for many years.
During the process, I found images of my all time favourite car, the Citroën DS. One particular model was a 1964 Citroën ID 19 Safari,  captured in Yorkshire on a hillside, with a rainbow in the background. It had taken me 11 years to get this shot!
Spending much time searching isolated moor and coastal regions location hunting for car magazines, I was often battling against weather conditions not suited to any form of photography. During breaks in the weather, rainbows would often appear, but I was never in the right place at the right time to get a car positioned and cleaned before they vanished.
Until this particular shoot.  The job was scheduled for the next day and I hadn't planned to do any photography as the weather was so bad, but the owner of the car was quite keen to show me around the area to find a location for the following morning. As we drove along a ridge from which he claimed there was a dramatic view, he pulled over. The rain had stopped, and it was still quite grey with a lot of cloud, but it was nice to get a closer look at the car.
As we chatted the inevitable rainbow appeared! A manic car cleaning session  ensued, and  I managed to shoot about 20 frames before it disappeared. Done without any help from Photoshop,  it was a satisfying moment –  I knew that I had finally captured this illusive image!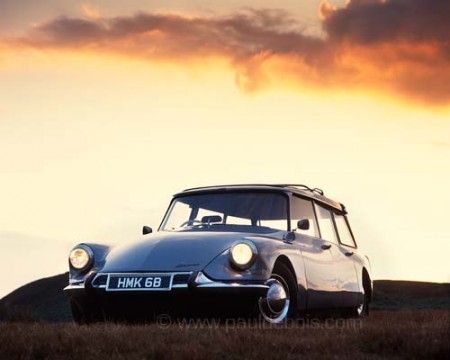 As the weather cleared we continued to work with the car and we were rewarded with a spectacular sunset an hour or so later. It was one of those lucky occasions where a significant part of a shoot had been completed in a couple of hours.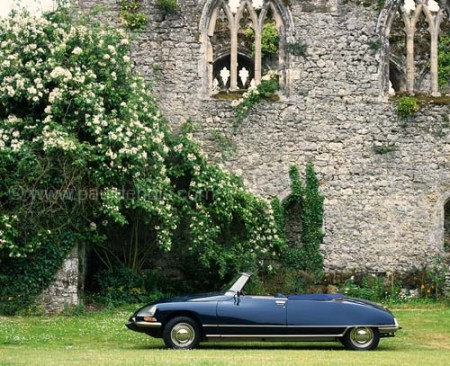 The last photograph is an indulgence, which I had to slip in! It is a Citroën DS23 Cabriolet which belonged to the late MP, Mr Alan Clark . Custom built by Henri Chapron on a 1973 DS23 saloon chassis in 1978, it is for me the ultimate Citroën DS! He even took me for a drive when I photographed the car at his home, Saltwood Castle,  in 1996 – with the roof down of course!
The photographs  were taken for  the book 'The Original Citroën DS' by John Reynolds.For more information on the whole series see Motorbooks, who took over from the commissioning publisher, Bay View Books, (now Herridge and Sons Ltd) and also Amazon, as several have been reprinted. The photographs will be available from the picture library Alamy and are currently being uploaded in batches as the original 6×7 transparencies are scanned.
---
---