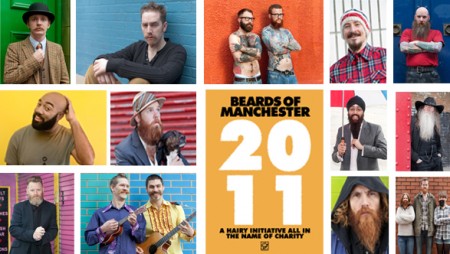 Just a quick note about a great project called the Beards of Manchester. In aid of the charity Lifeshare, which is a voluntary organisation established to help meet the needs of the homeless and disadvantaged in Manchester and Salford, photographer Gill Moore has been busily photographing the hairy, hirsute and follically unchallenged in and around the streets of the city. A calendar has been produced at lightening speed with the top 12 stubbly faces, chosen from over 200 possibles.
This was launched last night at Common Bar, Northern Quarter, Manchester , where the 12 final images will be exhibited. At the moment the calendar will only be available in Manchester, but will be available online soon – so one for the Christmas stocking in aid this worthwhile charity. Gill is apparently having a well earned rest after her marathon shoot – and is dreaming about electric razors!
UPDATE: Since the original posting, the calendar has been made available to purchase online.
---
---