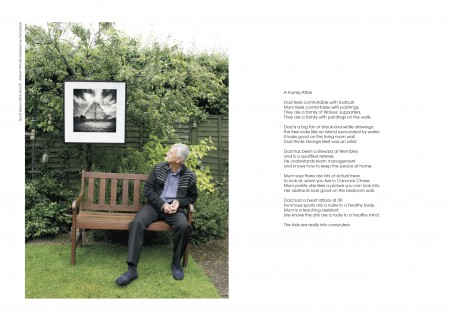 Earlier this year, I was invited to submit an image to an exhibition called 'Away Pitch' at The Brewhouse Arts Centre in Burton on Trent. Curated by artist Vitor Azevedo, the exhibition combined art and poetry. Works were placed with local sports people, who recorded their reactions and responses to them in the form of books, photographs and recordings. The launch was held in July 2009 at The Brewhouse, and included a dance performance combining sportsmen and professional dancers, a youth community dance piece and the unveiling of the Pitch exhibition. Over 170 people attended the event that was well received and has since continued to bridge the gap between art and sport in a positive way.
One of my Pinhole Impressions Series, Tilia Tomentosa (Lime tree), was placed with Mick Grocott, a referee, who was photographed by Vitor. All works were accompanied by text by poet and playwright Kev Fegan.
Other sports people included Alison Williamson, an archer for Team-GB, Jenny Booth, Gold medal winner at Atlanta 1996 for Paralympic Swimming, sprinter Alex Nelson from Stoke on Trent, Keiran McAvoy, Newcastle under Lyme's Sports personality of the Year, BMX Four Cross Mountain bike rider and boxer Frazer Clarke from Burton Upon Trent.
Vitor is currently working on a book to accompany the exhibition, which will tour the region.
---
---