This is probably one of the scariest shoots I've done – not least because I was expected to get the shot in one run as the Spitfire was very expensive to hire. I think it was around £700 for one fly-past. This was a discounted price too, as it was returning from an airshow in Weymouth.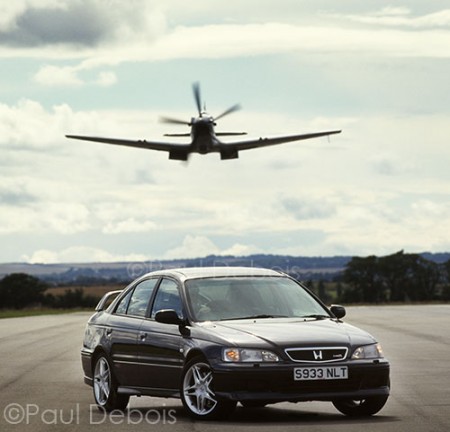 It took place at RAF Duxford in Cambridgeshire, where the car was parked in the middle of the runway. Using a long lens, I followed the plane pretty much as a gunner would have done in trying to shoot it down. It must have taken place in seconds, though the plane seemed to take an age to cover the last few hundred metres.  The noise of the engine was fantastic, and I admit I ducked as it flew overhead! But I was fairly confident I had at least a couple of useable frames.
At that point the pilot radioed down and said, "That was great fun – do you want to do it again?"  Silly question really!
After the plane landed we asked the pilot how high it was as it flew over the car. He said around 15 feet. As I was looking down, I can't vouch for this – all I know is that it was pretty bloody close! Apparently as the plane was only travelling at around 120mph, he couldn't get any lower. I didn't challenge his reasoning.
---
---